Standard Products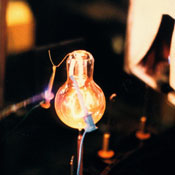 Our catalog is available for download in PDF format. You will need Adobe Acrobat Reader to be able to view the catalog. If you don't already have Acrobat Reader, download it here for free!
We stock many more lamps than the ones described in our catalog. They range in size from grain-of-wheat on up. Just call us. If we don't make what you need, we can recommend a reliable company that does -- even a competitor. All questions are welcome and our advice is free.
Please note that the prices shown in our catalog are list prices for a single lamp. Substantial discounts are available. See page 4 of our catalog for details.